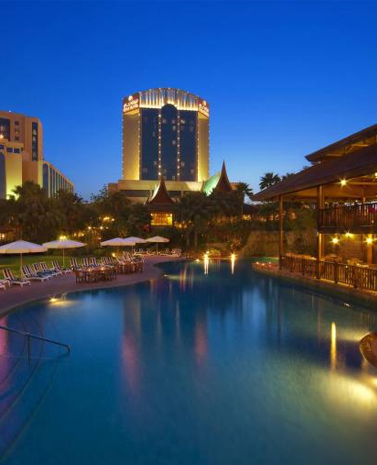 The original five-star hotel of Bahrain, Gulf Hotel Bahrain, offers resort facilities with a modern city location.
When it opened in October 1969, the waters of the Arabian Gulf were literally just a stone's throw away. Over the ensuing years, the Hotel has undergone extensive change, modernization and refurbishment and yet throughout has remained the Island's most consistent, successful and popular hotel. With 357 rooms, it is Bahrain's largest hotel and caters for both the business and leisure guests.
Situated just 15 minutes from Bahrain International Airport and only 5 minutes from Central Manama, the Gulf Hotel is located in the heart of Adliya, Bahrain's most fashionable area. Like its surroundings, the Hotel boasts a stylish and cosmopolitan atmosphere with a superb choice of award winning restaurants and lounges, highly regarded as amongst the best in Bahrain.
The imposing lobby at the Gulf Hotel sets the standard for the property. With glittering chandeliers, polished marble and classical wood panelling, it is without doubt one of the most impressive hotel foyers throughout the Gulf.Gazing out of the floor-to-ceiling windows, you can enjoy the panoramic views from your luxurious, newly renovated bedrooms or stay on our exclusive, discreet Platinum Floor offering some of the best vistas and services on the island.
Discover the world and its delights in one of our 14 restaurants and bars, which boast a selection of diverse cuisines such as Iranian, Thai, Lebanese, Chinese, Mexican, Western-Asian fusion, Japanese and continental. The Gulf Hotel Bahrain also houses two restaurants led by renowned Michelin star chefs: Rasoi by Vineet, an Indian cuisine experience led by Chef Vineet Bhatia, and the newly-opened La Pergola by Perbellini, headed by Chef Giancarlo Perbellini. Be it casual or formal, on site or offsite, the Gulf Hotel will always ensure some of the finest food and beverage experiences in the region.